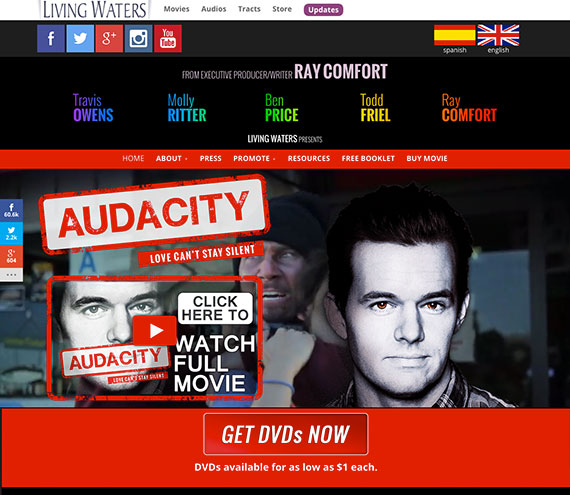 Visit the full movie website by clicking HERE.
From Living Waters, creators of the award-winning TV program "The Way of the Master" and the hit movies "180" and "Evolution vs. God," comes the powerful film "Audacity." Executive produced by TV co-host and best-selling author Ray Comfort (Hell's Best Kept Secret, Scientific Facts in the Bible), this film delivers an unexpected, eye-opening look at the controversial topic of homosexuality.

Peter (Travis Owens) is an aspiring comedian encouraged by his friend Ben (Ben Price, Australia's Got Talent finalist) to perform at the local comedy club. But stage fright isn't Peter's only fear. When confronted with one of today's most divisive issues, he feels compelled to speak, but can he? Challenged by his coworker Diana (Molly Ritter) to defend his convictions about homosexuality and gay marriage, will he have the courage to stand for what he believes—even at the risk of losing a friendship? And how will he respond when faced with a harrowing life-or-death experience?

"Audacity" uses a unique approach to address a very sensitive subject in contemporary society. Regardless of your views on homosexuality, you'll gain fresh insights and a new perspective.
AUDACITY - Watch Full Movie
Commendations
"The metaphors in this movie about homosexuality are compelling."
John Piper
Founder, Desiring God
"'Audacity' will force you to examine what you really believe about homosexuality. It will rock your assumptions…and challenge your faith in God. If you don't know where you stand on the issue of gay marriage, you will after you watch this film. It's a must-watch for everyone who wants to know the truth!" 
Alex Kendrick
Director/Producer, Fireproof and Courageous
"I give it second best Christian movie. God's Not Dead is number one! Ha!"
Kevin Sorbo
Actor, God's Not Dead
"PHENOMENAL!!!!! Audacity is extremely powerful, timely, equipping, and life-changing!"
David and Jason Benham
The Benham Brothers
"Powerful, intriguing, challenging."
Ken Ham
Founder/President, Answers In Genesis
"'Audacity' hits a home run!"
The Dove Foundation
"This perfectly frames the issue facing our culture. Especially the questions many young adults are faced with concerning same-sex relationships. Every Christian needs to watch this!"
Troy A. Miller
President/CEO, NRB Network
"Audacity is a startling revelation. Everyone should stop and watch this film!"
Tim Wildmon
President, American Family Association
"Timely. Extremely important."
Randy Alcorn
New York Times bestselling author
"Unique, appropriate, and most necessary for our time…Confronts the most contentious of issues without compromise, with amazing love."
Dr. Robert Jeffress
Senior Pastor, First Baptist Church, Dallas, Texas
"'Audacity' is both compelling and equipping. It couldn't be more timely."
Joe Dallas
Author/Director, Genesis Counseling
"This film is brilliantly done—a perfect mixture of how to be bold and yet balanced, of how to speak truth with love. Five stars!!!!"
Skip Heitzig
Senior Pastor, Calvary of Albuquerque
DVD's as low as $1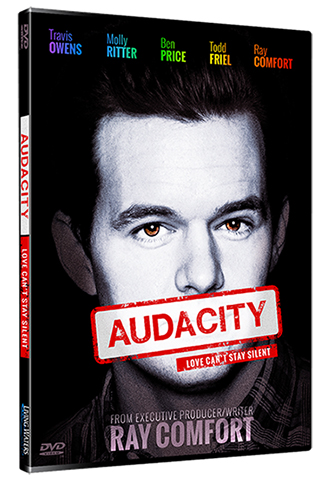 Audacity: 4-Session Video Study
The issue of homosexuality is becoming increasingly prevalent in our society, and it's one the Church can no longer ignore. But how can we address it with love—and with truth? This four-session video study will teach you how to overcome your fear and share the gospel lovingly, yet without compromise, with those who practice homosexuality. But it doesn't stop there. You will also discover how to share the gospel with adulterers and fornicators, your atheist aunt and your self-righteous sibling, your coworkers and neighbors. We'll help you learn how to get to the heart of the matter by using simple, biblical principles that have transformed our lives and the lives of countless others.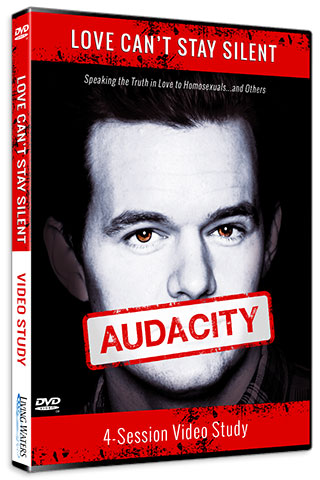 "God & Sexuality" Booklet
For most, the words "God and sexuality" go together as comfortably as "police and burglary." But did you know that the world began with a naked couple being commanded by their Creator to have sex? Or do you think that the existence of both male and female throughout the millions of Earth's creatures (with the corresponding, amazingly complementary apparatus) was the random result of a cosmic accident? While many animals were given instinct to procreate during particular mating times, God designed humans to enjoy physical intimacy year-round. Many people are very familiar with the gift of sex, but are not so well informed about the Giver. This short booklet will help you understand God's wonderful design for sexuality—and for you.
(This 32-page, 3.5″ x 5″ booklet includes answers to several common questions on homosexuality.)